Today I am joining a summer photo meme called "the Crazy Days of Summer." I've been wanting a Friday challenge and this is the first week, so it seems like the perfect one to join. Even better the first week's theme is flowers. I love taking pictures of flowers. Makes me wonder if I should get a macro lens instead of a 50mm for my birthday.
Follow the button to see other people's photos!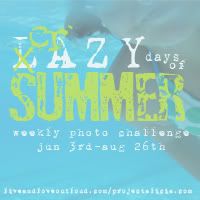 Anyway, this is my week's entry:
I am also linking this to
Bumble and Light
because I am following her new weekly training "How to Take a Photograph" and today she asked for photos where we break the rules of composition and still love the photo. I'm a little nervous to link up since it implies that I KNOW the rules to break. However, I originally cropped this photo to the rule of thirds and didn't like it--at all. There was too much green on one side and just not enough space around the flower on the top and bottom. I couldn't take the photo at a wider angle because it was surrounded by dying flowers. So I might have broken a ton of other important rules or obeyed them; I don't know. I do know that my favorite part of the flower is smack dab in the middle of the photo and THAT is against the rules, right?
So blah, blah, blah...hope you enjoyed my Iris. It is my favorite flower.