If you asked me this six months ago, my answer was easy--to document the important details of my life as they occur. Even before children this was true and I have many bad pictures of people whose names I now don't recall--mostly candids because that was my "style." After children I became even more obsessed. Thank goodness for the introduction of the digital camera. It has saved me hundreds of dollars on film and duplicates. This is still one of the main reasons I shoot pictures. I love to capture that special memory of my child, his/her smile, laugh, eyes, hair, activities...the list goes on. When I get a great (in my mind) image, I will stare at it for minutes or hours reveling in the beauty that is my child such as in
this sweet shot
.
But a third reason I love taking pictures is that it has opened my eyes. I see things I would never have seen before. Following Kat's
Exploring with a Camera Series
I have started to see contrasts, find form, and this week notice repeating patterns. Learning to see beauty in everything around me has brought me closer to God and more appreciative of the world around me. I feel like entering the world of photography has given me glasses that I never want to take off again.
dream
that someday when I upload 1000 pictures that more of my shots are keepers and that my quality of capture overall will continue to increase, but in the meantime I love taking what I do know and try to capture that perfect shot. If I don't succeed, oh well! I'll keep exploring, learning, and dreaming and in the meantime, editing. I must admit I kind of love the whole world of editing, too! Seriously, how fun is photography?
CoffeeShop's Perfect Portrait 3 Action, and Kim Klassen's Silent Night Texture on a Multiply 50% Vignette
Linking with Sweet Shot Tuesday, Exploring with the Camera, Texture Tuesdays...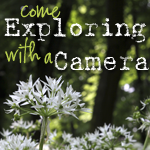 And my class over at
The Kat Eye View of the World
called Find Your Eye: Starting the Journey.