I really do love
Exploring with a Camera
Prompts. They keep me inspired when I already have 200 pictures of my children at the same exhibit and otherwise might get bored. Also, I believe they are really helping me develop an eye for interesting compositions or will some day. This week's theme is repeating patterns, and I must say, once again I was skeptical when she said they are all around us, and then I ended up taking 100s of pictures of repeating patterns (though some of them might be a stretch). Feel blessed, very blessed, that I am limiting my choices to two per Scavenger Hunt Sunday prompts.
Walking Empty Streets:
This bench is along an temporarily empty park street.
Okay, these are indoors, but they remained empty as the glass elevator was much more fun.
Repeating Patterns:
I shot these pinwheels from several different angles. You may be seeing more of them.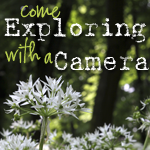 I love the repeating shadow lines down the handrail.
Floor:
The edge of the pool deck floor had these repeating bricks.
So this might be a stretch for floor and repeating patterns, but I still think it's pretty. It is the ground which is the floor outside.


Then and Now (Hover the mouse over to see the Nows):
Originally I took the NOW picture with f/1.8 to have enough light, but THEN I tried again with f/16 in order to have a little light flare (which didn't exactly work). I love how the irregularity of the lights contrast with the repeating patterns of the ceiling grates.
I'm a little befuddled on which picture is Now and Then. This photo is the Then of vintage gumballs and the Now of post edit. The photo revealed on hover is the gumballs of Now and the Then of pre-edit. Ummm, I'm sure you can figure it out.
FingerTips:
To avoid reaching for books with your fingertips, the book store has repeating ladders.
One of things I hope to eventually be able to do is see repeating patterns, or form, or etc. while taking pictures of my children in order to compose a more interesting shot. That is going to take practice. Thank goodness I love practicing with my camera!
He is holding the paper by his fingertips as I try to capture the repeating patterns of the bricks.
Well, I'll probably be a little late linking my Scavenger Hunt post up but I'm a little early posting it, so I think it'll all wash out in the end.